Description
Overview
Brand
Toshiba
Series Name
canvio connect ii
Capacity
3 TB
Connectivity
USB 3.0
Color
Red
Model No
Connect II
External Power Supply
Yes
Rechargeable Battery Included
No
Warranty
3 Years
OS Compatibility
Windows
Dimensions in cm(LBH)
13 x 10 x 2 cm
Weight (In Grams)
230 gm
Sales Pacakage Content
USB cable
Overview
Toshiba brings a smart and convenient data companion, Toshiba Canvio Connect II 3 TB USB 3.0. This is a portable and light weight device. Compatible with Windows and Mac, this device makes sure that compatibility is never an issue. With massive 3TB storage capacity, USB 3.0 Technology, great data backup, this hard drive is surely going to be your favourite data drive. Now you can access your documents with ease, anywhere and anytime.
So do not wait and grab this amazing, useful hard drive from Snapdeal which lets you store your movies, music, file, and much more.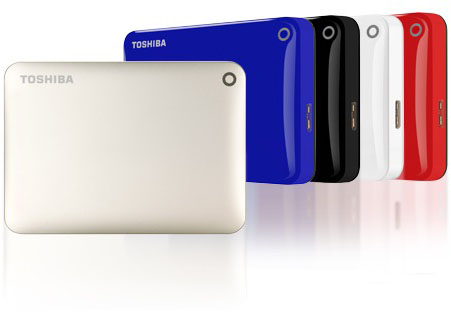 Unsurpassed Design
This external hard drive is not only useful but also has looks to admire and flaunt. Its sleek, compact and classy body cover is beautiful and cannot get unnoticed. It is light in weight and easily fit in your palm. You can carry it anywhere with ease. With beautiful glossy colour it will surely be eye catching.
3TB Storage Capacity
Now keep your worry of storing data in huge volume and numbers at bay. With 3TB you can store your favourite music, movies, files, videos, games and much more easily. The ample space is good enough to stock all your favourites not letting you delete some files facing space crunch.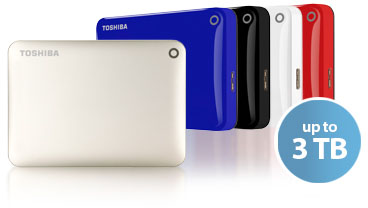 10GB Cloud Storage
What can be better than this! Toshiba Canvio Connect II 3 TB Hard Drive can really do much more than any other external hard drive. It turns your PC to your personal cloud server. This is done through Remote Access Software which lets you upload/download files from anywhere from any device. It's just that your Canvio Connect II should be connected to PC or WiFi. It is also easy to expand your cloud storage if needed more than 10GB.

Fast Transfer
USB 3.0 interface lets you transfer files easily with speed. Now files can be transferred quickly, not wasting time and safely. So when piled up with lot of work, transferring won't add to it. USB 3.0 which lets it compatible with USB 2.0, makes the device much faster than any device.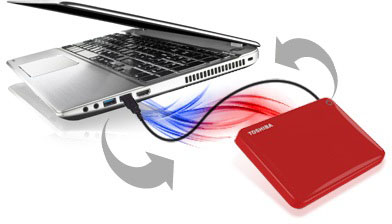 Backup & Recovery
With pre-loaded NTI Backup Now EZ software Toshiba Canvio Connect II provides reliable backup for all the files, documents and folder. So worry not about your files to get lost. They are safe and protected in this hard drive.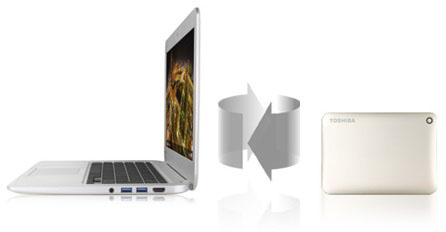 Safeguard Your Data
Toshiba takes extra care of the devices. It has provided extra precaution for Canvio Connect II from shock. With internal shock sensor and ramp loading technology it keeps you data safe and protected like no other external hard drive.