Description
Overview
Brand
Seagate
Series Name
Backup Plus Slim
Capacity
1 TB
Connectivity
USB 2.0
Color
Golden
Model No
stdr1000309
External Power Supply
No
Rechargeable Battery Included
No
OS Compatibility
Linux
Dimensions in cm(LBH)
11.4 x 7.6 x 1.2 cm
Weight (In Grams)
159
Sales Pacakage Content
Hard Disc
Overview
This compact Seagate STDR1000309 1TB External Hard Drive is designed for simplifying your data storage and backup requirements. It is not only portable but will also help you in storing all your data with utmost security. With its USB 3.0 interface, it will allow you to transfer data at an incredible speed. The hard drive is also USB 2.0 compatible and offers plug and play functionality with a PC. For using with MAC devices, one is required to install the NTFS drivers. The product is now available on Snapdeal with a 36 month warranty.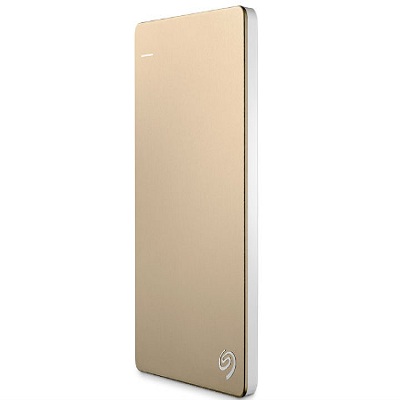 Large storage capacity
Having 1TB storage capacity, this Seagate hard drive will let you conveniently store all your important data with absolute security. Keep all your favorite photos, music, videos and everything at a single place that you can access anytime anywhere.
Mobile Back-Up App and Dashboard
For safely backing up data from your mobile devices, Seagate STDR1000309 1TB External Hard Drive comes with the Seagate Mobile Backup App for quickly transferring files from those devices to the hard drive or cloud. The app is compatible with Android version 2.3 or higher and iOS version 7 or higher. This particular feature helps you to better manage your photos and videos including the ones you share on the social networking sites.
Cloud Storage with OneDrive
Along with its 1TB storage capacity, this Seagate external hard drive also provides additional 200GB of cloud storage space. It brings you the power of storing your data on the cloud with OneDrive for a period of 2 years. It will not only provide you on the go access to all your important files and documents but also completely protected with high end data encryption technology.
Portable and Compact Design
With a dimension of 11.4 x 7.6 x 1.2 cm and weight of only 159gm, this Seagate STDR1000309 1TB External Hard Drive has a compact and portable design and will easily slip into your pocket. You can conveniently carry it wherever you go without feeling any extra weight and have access to your data on the go.
System Requirements
Seagate STDR1000309 1TB External Hard Drive is compatible with Windows 7 and Windows 8 operating systems and also with Mac OS X 10.7 or higher. It supports both USB 3.0 and 2.0 data transfer. System requirement for the Seagate Mobile Backup App is iOS 7 or higher or Android 2.3 or higher while requirements for the Lyve software is Mac OS X 10.9 or higher or Android 4.1 or higher.